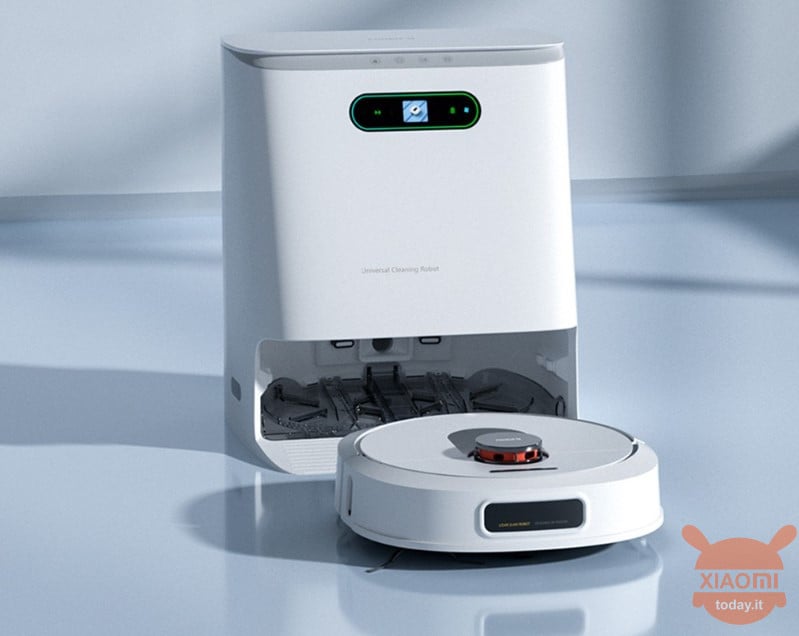 Roidmi EVA it was one of the first robot vacuum cleaner which led to the trade of spinning cloths for washing floors and above all a base that washes them ed dries automatically. A big breakthrough that turned these robots into real and concrete help in the daily cleaning routine.
Roidmi EVA on offer
Roidmi EVA it is not the only robot with these characteristics but it is certainly the only one that is offered at a reasonable price, moreover today on offer on GeekBuying for €567 using the discount code GKB22BF50 on this page.
The price includes the discount for paying with PayPal
Roidmi EVA in detail
Il Roidmi EVA is a concentrate of technology that adopts a LDS laser sensor for quick mapping of the house and recognition of obstacles. To this are added the classic anti-collision, anti-fall and for the carpet recognition on which the power will increase automatically.
It has a powerful engine that delivers a suction pressure of no less than 3.200Pa sufficient for an excellent result on all surfaces, including carpets and rugs.
Il washing, which takes place simultaneously with the vacuuming of the floors, is certainly one of the strong points of this product thanks to two mops that rotate up to 180 times a minute, guaranteeing decisive, homogeneous cleaning that is much superior to the classic dragged mops, both vibrating and non-vibrating.
We can adjust the amount of water to send and even remove the cleaning cloths when we just want to vacuum. They are fixed thanks to a easy to disassemble magnet system which simplifies maintenance.
The multifunction station of the Roidmi EVA
The charging base is a real formula one pit stop station:
Recharge the robot
Empty the powder from the canister
Wash the spinning clothes
Dry the spinning cloths
With the Roidmi EVA not only will we be able to forget about the daily cleaning related to vacuuming and washing the floors, but also about the maintenance that on this product is reduced to a minimum.
Another great advantage is the sensor present in the robot which automatically recognizes the dirt on the clothes rotating and while mopping it returns the robot to the base for self-cleaning and resumes mopping the floor from where it left off. At the end of the session, the cloths come washed again and dried to prevent the formation of bacteria and bad smells
In conclusion, the ROIDMI EVA is a great option if you don't want to manually clean the robot every time you use it. The base station allows us to perform multiple cleanings without having to touch the robot vacuum cleaner.
If you are interested in buying, find the ROIDMI EVA a This Page at the unmissable price of €567 including fast shipping from warehouse in Europe.
The price includes the discount for paying with PayPal
Pro
Easy to set up and use
Rotating cloths for washing
Dust self-emptying
Self-cleaning and drying clothes
Cons
Manual water refill
Noisy emptying