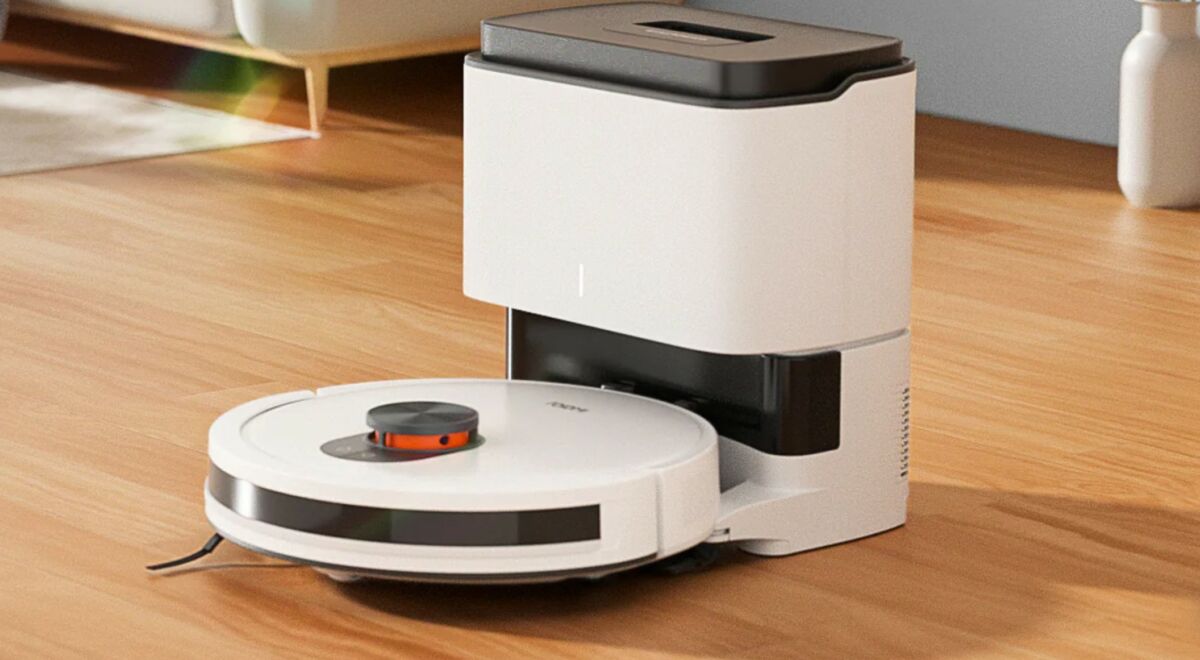 The Xiaomi ROIDMI EVE CC floor cleaning robot vacuum cleaner will help us clean the house, vacuuming and washing our floor automatically. Equipped with an automatic dust collection tank, it has a suction power of up to 3800Pa, LDS laser navigation, 3200mAh battery, 180 minute autonomy, 290ml water tank, 260ml dust tank and control via app
TECHNICAL FEATURES ROIDMI EVE CC
Type of Cleaning: Suction and washing, with dust collection.
Battery Capacity: Li-ion 3200mAh.
Power: 40W robot vacuum cleaner and 700W dust collection station.
Tank Capacity: 0,29L water tank and 0,26L dust collection tank.
Noise Level: Varies from 61dB(A) in silent mode to 76dB(A) in powerful mode.
Autonomy: Up to 180 minutes in silent mode.
Charging time: Approximately 190 minutes.
Navigation Mode: Laser navigation with infrared obstacle avoidance.
Cleaning Area: Up to 150 mXNUMX.
HEPA filter: Supported.
Suction Power: 4000 Pa with 4 power levels.
Volume of Water for Washing: Three selectable levels.
These specifications make the Roidmi Eve CC a versatile and powerful robot vacuum cleaner, suitable for a variety of household cleaning needs.
General
Brand: ROIDMI
Typology: Vacuum cleaner
Model: Eve CC
White color
Small Parts
Type of cleaning: Suction and cleaning + self-collecting dust
Li-ion Battery Capacity: 3200mAh
Robot Vacuum Cleaner Power: 40W
Dust collection station power: 700W
Water tank capacity: 0,29
L Robot dust collection capacity: 0,26L
Host Noise: Quiet: 61dB (A); Standards: 63,7dB(A); Mid Range: 67,6dB(A); Powerful: 72,1dB(A)
Working time: 150 minutes (quiet running)
Charging time: approx. 190 minutes (power less than 10% charge)
Sweep Path: Arc Sweep
Cleaning form: Flat cloth
Fall arrest scenarios: 100 mm without falling
Barrier crossing height: Garbage: 20 mm, cleaning: 20 mm
Distance along the wall: <15mm
Climbing Ability: Support 15 -degree slope
Navigation modes: Laser navigation + infrared obstacle avoidance
Cleaning area:
150 mXNUMX dust container HEPA paper to prevent dust clogging: Support
Reload speed: Auto search, clean finish reload, low charge reload, shortest reload path
95% success rate for primary reload, 100% success rate for secondary reload
Dust suction power: Max 3800Pa, 4 gears optional, the force is divided into strong, medium, standard and quiet gear
Flushing water volume: selectable, 1st, 2nd, 3rd gear
Dust collection time: about 12 seconds
Weight and size
Robot weight: 2,8 kg
Base station weight: 2,6kg
Package weight: 7,5 kg
Host Dimensions (L x W x H): 32,5 x 32,5 x 9,7cm
Base Station Dimensions (L x W x H): 27,5 x 19,9 x 29,3cm
Packaging Dimensions (L x W x H): 38×36,2×40cm
Package Contents
1 x host
2 x Side Sweep (1 pre-installed, 1 free)
2 x Mops (1 pre-installed, 1 free, including mop holder)
1 x 2 in 1 Dust Box
2 x HEPA (1 pre-installed, 1 free)
5 dust bags (1 pre-installed, 4 free)
1 cleaning brush (dust brush)
1 quick user guide
1 user manual
OUR BEST OFFERS
€249 €549
GEEKBUYING
🇪🇺Fast Shipping INCLUDED from Europe (No Customs)