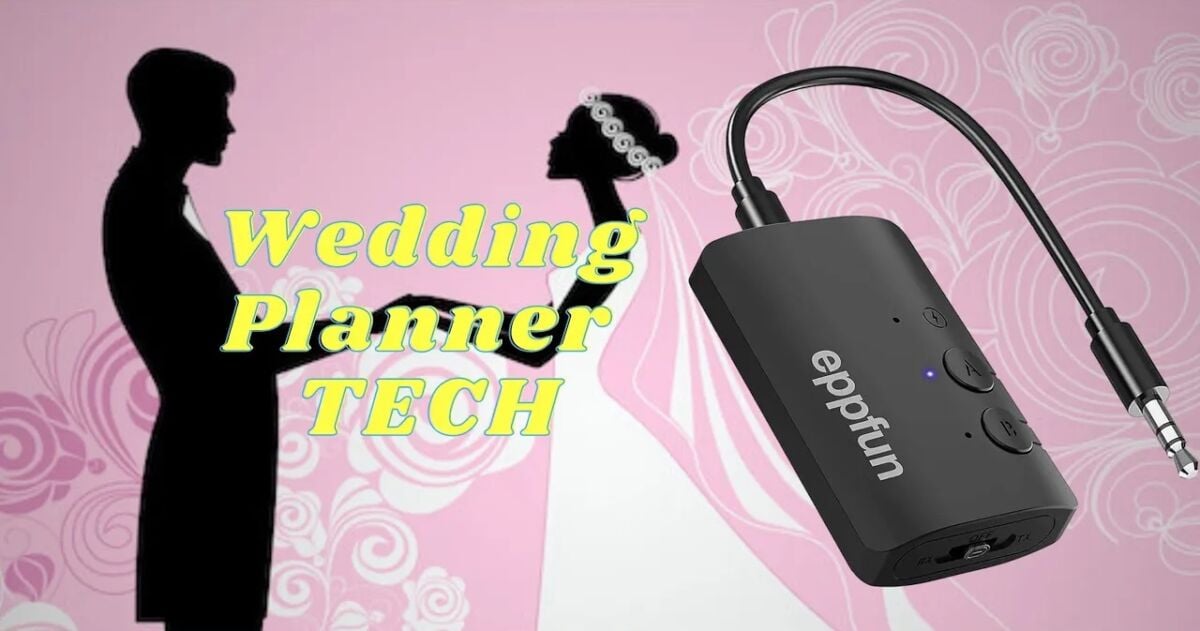 How many times have you found yourself in the situation of watching movies and/or TV series in the middle of the night, risking being kicked out of the house, as the volume was too high for those who were already in bed, blissfully asleep? For those like me who have a TV that is not too smart, in fact there is no possibility of associating Bluetooth headphones and therefore no matter how hard I try to keep the volume down, the noises are accentuated at night and therefore what can be the solution to save weddings? I'll show it to you in this review which features the Eppfun AK3040C audio gadget as the protagonist, a Bluetooth transmitter / receiver that offers a lot of versatility of use and that you can easily find on the Amazon Italy store.
On offer on Amazon
Last updated on December 9, 2023 9:50
unboxing
The packaging appears simple and almost anonymous but what matters is the content, which in addition to the Eppfun AK3040C also includes a 3.5mm male/male jack adapter, a 3.5mm jack audio cable, instruction manual and a charging cable. as the transmitter is equipped with an internal battery, which allows it to be used independently of an energy source.
Eppfun AK3040C is a dongle capable of transmitting or receiving audio wirelessly, equipped with the Qualcomm Bluetooth 5.2 chip, thus allowing us to "upgrade" all our entertainment devices to a wireless interface, associating headphones and wireless listening devices on the market .
DESIGN AND CONSTRUCTION
The base is very compact in size and weight and offers a button in the lower part that will be used to switch on the device, choosing whether to use it with audio reception or audio transmission function, the latter being the most common. On the opposite profile we instead have the 3.5 mm jack input to connect the dongle to the audio output of the device from which we want to receive / transmit the sound stream and then the Type-C charging input.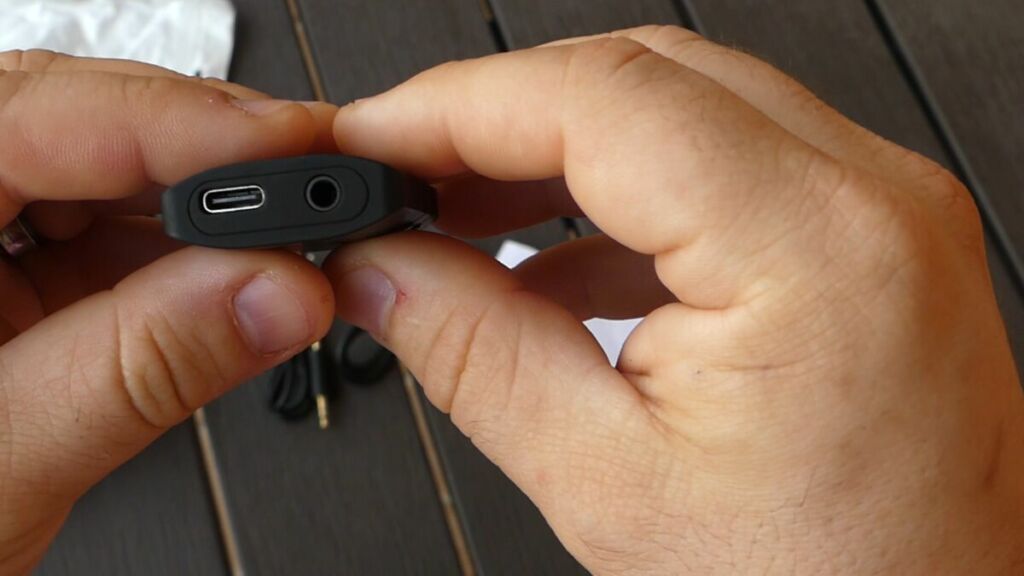 BATTERY LIFE
In fact, the Eppfun AK3040C has an integrated battery that offers an autonomy of up to 12 continuous hours on a single charge in transmission mode or 20 hours in reception mode (full charge in about 2 hours). On the front of the gadget we then find 2 buttons, distinguished by the letters A and B, through which we will associate the devices, considering that the product keeps in memory the last associated device, we can therefore use the Eppfun transmitter/receiver with a couple of TWS headphones or with a Bluetooth speaker, switching from one source to another without having to pair again. To suggest which "channel" we are using, we find two LEDs that will turn different colors based on the audio codec used. Finally, a third LED identifies the charge status of the integrated battery.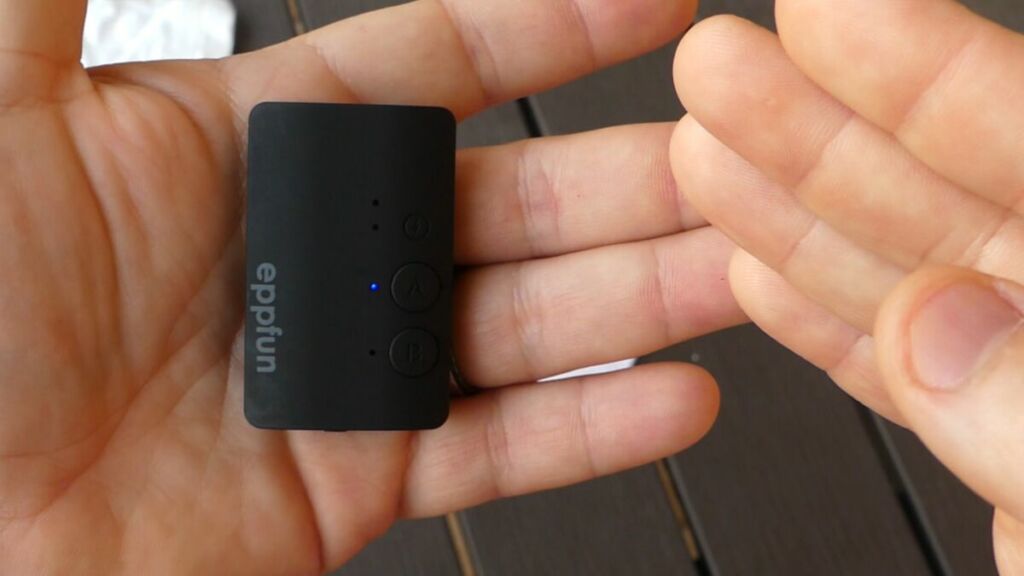 HOW IT WORKS
Pairing a device is pretty straightforward. In fact, on first use, the dongle will automatically enter search mode by double clicking on the A or B button, so you will also need to put the playback device, i.e. our headphones or the loudspeaker, in association mode: in a few moments, the two will automatically device will be synchronized and the LED indicator will stay on after successful pairing with the receiver. This is the procedure for the transmission function, while for the receiver mode, you will associate the Eppfun AK3040C as you would with a common Bluetooth device, searching for it from the Bluetooth settings of the device you want to connect.
As mentioned, the Eppfun AK3040C supports multiple audio formats, including SBC / AAC / APTX / APTX LL / APTX-Adaptive / APTX HD. Thanks to Bluetooth 5.2, whose communication range is 10 meters, energy consumption is reduced to a minimum and the transfer speed of the audio stream is decidedly fast, i.e. the transmission/reception latency is reduced to values ​​close to zero. If the associated device supports different audio codecs, you can switch to the preferred codec by triple clicking the A or B button and specifically:
SBC: Green LED light status flashes once every 5 seconds.
aptX: Green LED light status flashes 3 times every 5 seconds.
aptX LL: Green LED status lamp flashes 4 times every 5 seconds.
aptX HD: Green LED light status flashes 5 times every 5 seconds.
aptX Adaptive: Green LED status flashes 6 times every 5 seconds
This product not only supports AAC, SBC, but also aptX, aptX-Adaptive, aptX-LL (short for apt-X Low Latency) and aptX HD codecs and specifically:
SBC - standard codecs. There is a change in sound quality. With delay (170-270 ms when connected with SBC).
AAC: Compatible with Apple products. Better than SBC (90-150ms when connected with AAC).
aptX-Adaptive: Near CD quality. Low latency (60ms when connected with aptX -Adaptive).
aptX Low Latency: Near CD quality. Extremely low latency (40ms when connected with aptX LL).
aptX HD: High quality sound equivalent to high resolution (100ms when connected with aptX-HD).
*NB: Due to the nature of Bluetooth communication, the delay time varies depending on the processing speed of the connected device.
On offer on Amazon
Last updated on December 9, 2023 9:50
We can therefore associate the gadget to a TV to which to connect TWS headphones, or to a Bluetooth speaker, for example to bring closer to you if the television is positioned too far away, without having to turn up the volume to the maximum, or you could use this combo to listen to the game while you are out on the terrace having dinner with friends but you have no possibility to move the TV etc..
The usage scenarios are decidedly multiple, but I have listed only a few of these to be exploited as a transmission, but the Eppfun gadget is also capable of receiving. You could therefore use it to create a sort of audio monitor for the camera or connect it to good old-generation speakers to listen to music from your smartphone, or connect it to the car radio and transform your car's stereo system into hands-free and very other.
On offer on Amazon
Last updated on December 9, 2023 9:50
CONCLUSIONS AND PRICE
As you may have guessed from the words spent for the review, the Eppfun AK3040C offers a versatility of use that ranges in various fields as well as solving common situations, such as not creating nuisances at night with listening and watching movies from the TV, or by the noise generated by the exaggerated volume because the elderly man on duty does not listen well to his favorite programme.
Of course it refers to audio-based Bluetooth devices that allow the source to connect to headphones or speakers via Bluetooth: NOT support mouse, keyboard, game controller etc. Thanks to this audio adapter you can easily do a hardware upgrade to your devices non-Bluetooth by upgrading them with a Bluetooth audio function at a very affordable price. You can find it on Amazon with Prime shipping and guarantee at a price of around €25, so you just have to click on the banner to complete the purchase.
EPP FUN AK3040C
A gadget that can prove useful in many areas of use and that really costs poco. The Eppfun AK3040C is an accessory capable of transmitting and receiving audio streams, with support for many codecs and above all excellent ease of use.
PROS
VERSATILITY OF USE
PRICE
AUTONOMY
EASY TO USE
COMPACT SIZES
POSSIBILITY OF ASSOCIATING TWO DEVICES AT THE SAME TIME
Add your review