Xiaomi has just presented two new products that will allow us to see outside our home walls much more easily. We are talking about a new astronomical telescope named Star Trang SCTW-70 and a surveillance camera, the Yi V3 Outdoor Security Camera; let's go and discover them together!
Xiaomi Yi V3 Outdoor Security Camera and Star Trang SCTW-70 telescope presented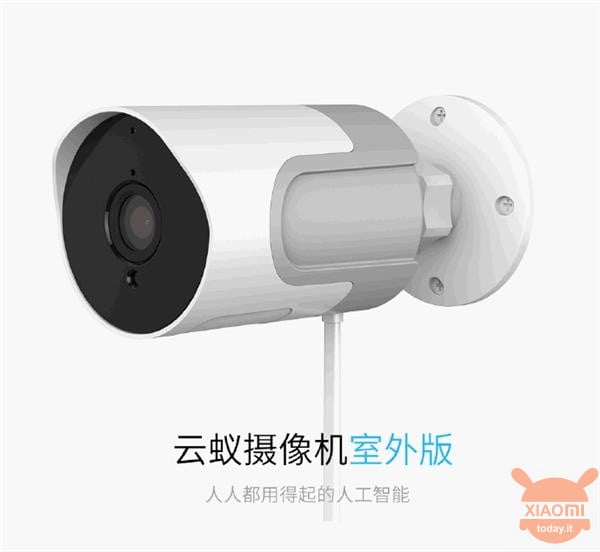 Let's start with the latter as perhaps more interesting for fans of Xiaomi gadgets. The Yi V3 Outdoor Security Camera is in fact an entry-level video camera that will allow us to monitor what is happening outside our homes. Furthermore, the V3 was born with the aim of bringing the artificial intelligence of Xiaomi surveillance cameras even in a very low band, in fact, the product costs only 189 Yuan in China, or on the 24 euros at current exchange rates.
As for the features instead, the camera was created for outdoor use and is therefore waterproof with the IP66 standard. Then we have the night vision function thanks to 12 infrared ray emitters. These allow us to see what we have in front of the lens up to a minimum of 0,1 lux of brightness and a radius of 10 meters.
Furthermore, it presents the mode for detecting movements, an alarm to frighten possible criminals. Obviously we will also have notifications in case of detection of people or animals (always if activated). Unfortunately we have no other technical data such as video resolution and more at the moment; we will update the post when available.
In conclusion, the Yi V3 Outdoor Security Camera is a surveillance camera that carries many of the most expensive features YI Outdoor Security Camera at a more competitive price. So a very interesting product for those who want to save money.
Astronomical Star Trang SCTW-70 telescope
Let's now move on to another device that will help us observe what happens outside the home, let's talk about the Star Trang SCTW-70 astronomical telescope.
The telescope is equipped with a stainless steel tripod, which is easy to assemble and therefore convenient to carry with you and comes with a high-quality shoulder bag. We also find a simple look with three main colors: white, black and orange.
From the hardware point of view instead, the telescope adopts a lens with an 70mm aperture that collects 100 times more light than the naked eye and decidedly more light than the classic telescopes for beginners, while the focal length is 500mm. The lens uses a high-quality glass with a double side coating at 4 lenses, for a brighter field of view and more realistic colors.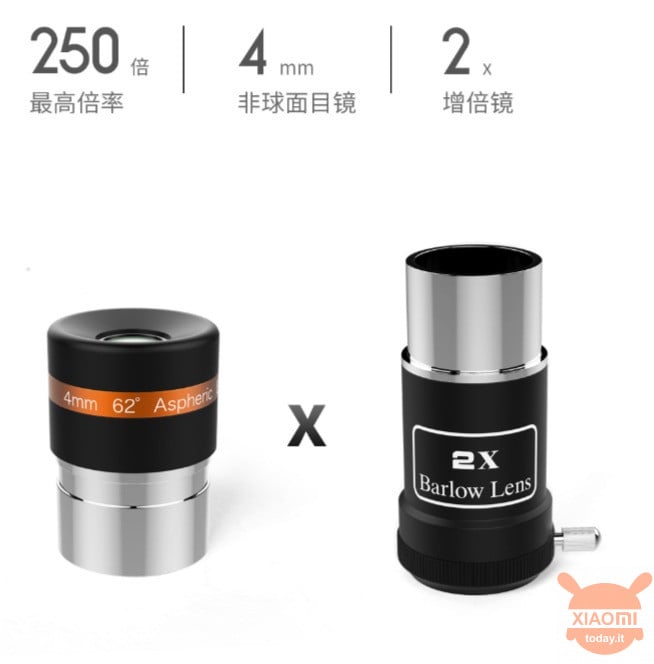 The Star Trang SCTW-70 comes with 3 wide-angle eyepieces, the first two from 10 mm and 20 mm correspond to enlargements of 25x and 50x respectively. While the other 4 mm aspheric type eyepiece has a wider observation range than traditional eyepieces with distortion control is better and a magnification of up to 125 times.
The astronomical telescope is supplied as standard with an 2 × multiplier which can therefore increase the maximum magnification up to 250 times. We also have an 6 × 24 finder, it is a small telescope that is mounted on the telescope tube and is used for pointing the telescope itself. In particular, the seeker allows you to see a larger portion of the sky than would be seen with the telescope, so as to be able to frame a celestial object more precisely before observing it with the telescope lens.
The Star Trang SCTW-70 astronomical telescope is now in crowdfunding on the official Xiaomi site at the 369 Yuan figure, about 47 € at current exchange rate; hence an ultra-cheap telescope. Needless to say, it has already been funded with over 400% of funds compared to those requested.
-45%

Coupon
🇨🇳 Priority Line Collection (10 / 15gg, No Customs) ✈
Buy
Use discount codes:
GBMITWAIR2
-47%

Coupon
🇨🇳 Priority Direct Mail Shipping (Delivery 10 / 15gg, NO customs) ✈
Buy
Use discount codes:
BGAIRAIR
-42%

Sale
🇮🇹 Express Shipping from Italy FREE
Are you interested in OFFERS? Follow our TELEGRAM Channel! Many discount codes, offers, some exclusive of the group, on phones, tablet gadgets and technology.