Are you looking for a dash cam for your car but don't know which one to choose? In these cases it is good to rely on well-known brands in the sector such as 70mai, a brand belonging to the Xiaomi ecosystem that has been producing quality dash cams for several years. Well, today the 70mai Dash Cam Pro Plus (A500S) is on sale at a special price on the store Heck, it can in fact be purchased for only 61,99€ instead of €79,99 if you use the discount code 70MAIPRO. Click here to go and take advantage of this promotion.
70mai Dash Cam Pro Plus (A500S) is a must have for car drivers especially at this price (with coupon)
As for the features of the 70mai Dash Cam Pro Plus (A500S), the dash cam has outstanding image quality with a resolution of 2592×1944; great for capturing license plates, road signs, and other critical details on the road. It also provides well-lit images even at night by taking advantage of its 6 infrared lights.
Thanks to the integrated G-sensor it can detect sudden jolts or collisions while the car is stationary and automatically start recording to capture any accidents. If emergency video is recorded, the dash cam will notify you via voice alert when powered back on.
On the dash cam, you can monitor and view real-time travel data including time, speed (km/h, mph) and coordinates. Thanks to GPS it tracks the exact location of an accident, should it occur, which could be useful for roadside assistance and compensation claims. Su can also view the driving route and speed in the 70mai app after finishing a trip.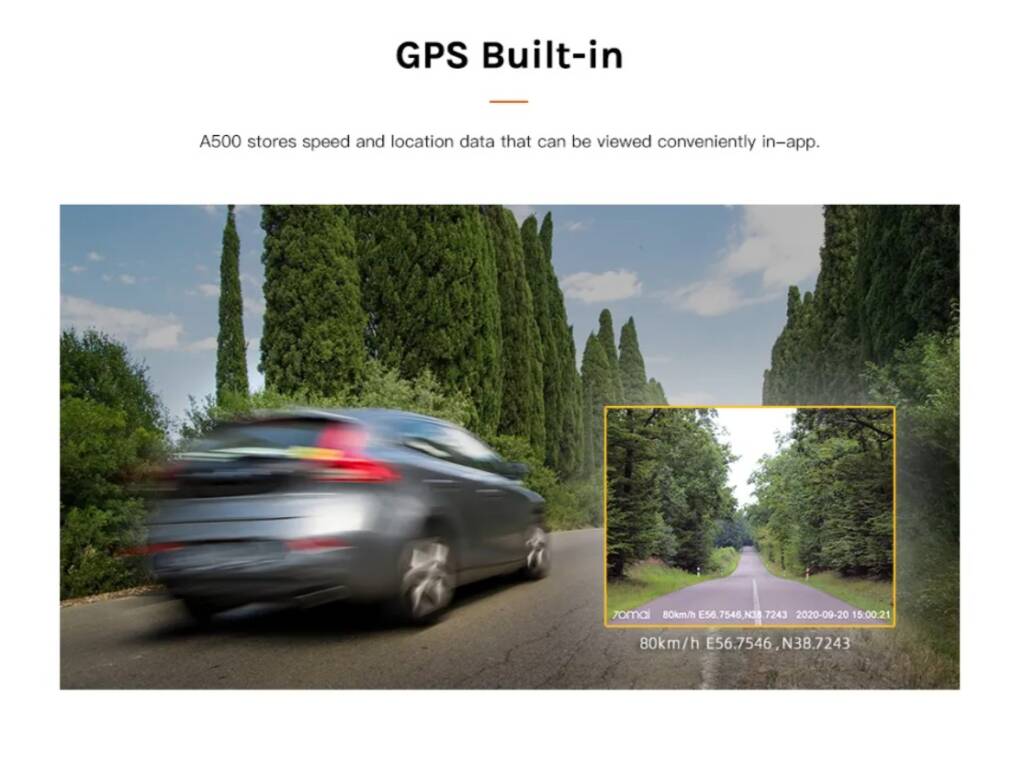 The 70mai Dash Cam Pro Plus (A500S) supports 1fps continuous recording during parking mode. Compresses every 30 minutes of video into 1 minute to save memory card space and enable much faster playback so you can capture newsworthy events immediately.
Finally the Pro Plus uses loop recording to continuously overwrite the oldest footage so your memory card doesn't run out of space.