Are you interested in OFFERS? Be smart and subscribe to our Telegram channel! Lots of discount codes, offers, pricing errors on technology from Amazon and the best online stores.
I tried the Insta360 X3, successor to the ONE X2 which has revolutionized the action cam market, comes in a very similar guise but with several new features.
Insta360 X3
Complimentary invisible Selfie Stick worth €29,99
How the Insta360 X3 works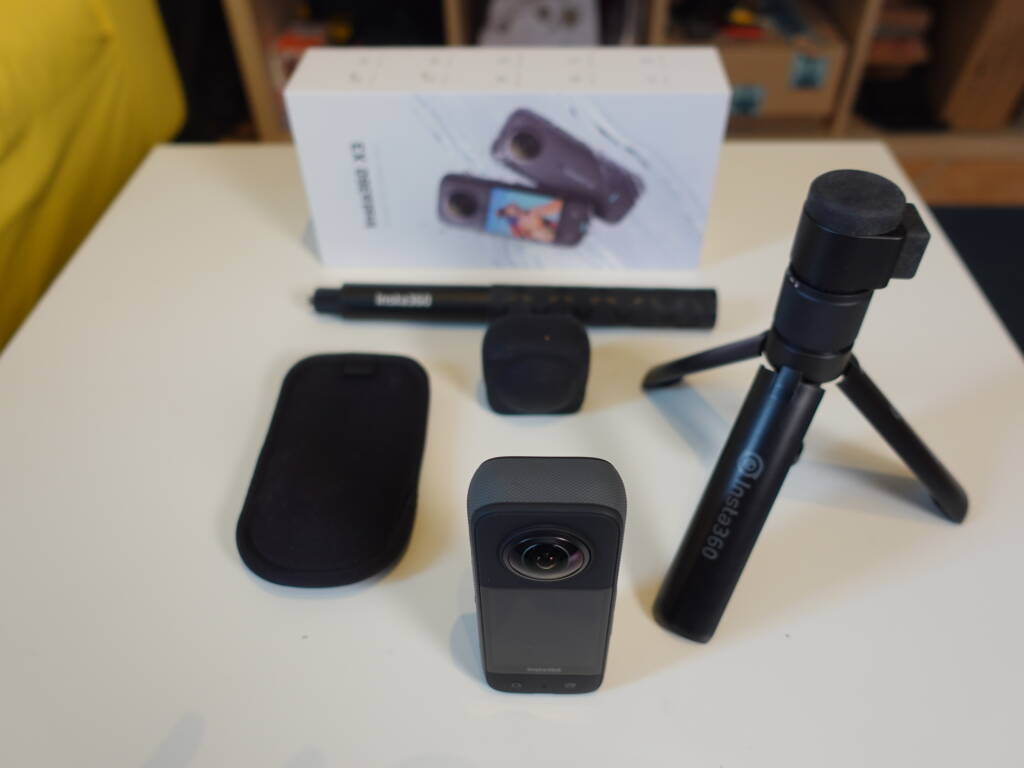 The Insta360 X3 is a 360º camera, with two fisheye lenses that simultaneously record 2 videos that are merged into a single 5,7K 30 frames per second all-sky movie with the possibility of being manipulated later to make videos with standard aspect ratio or whatever you want.
The beauty of this product is its versatility. There's no need to worry about shots and subjects, as the fantastic application comes with it it will allow us to decide in post-production what, how and in which format to show the video.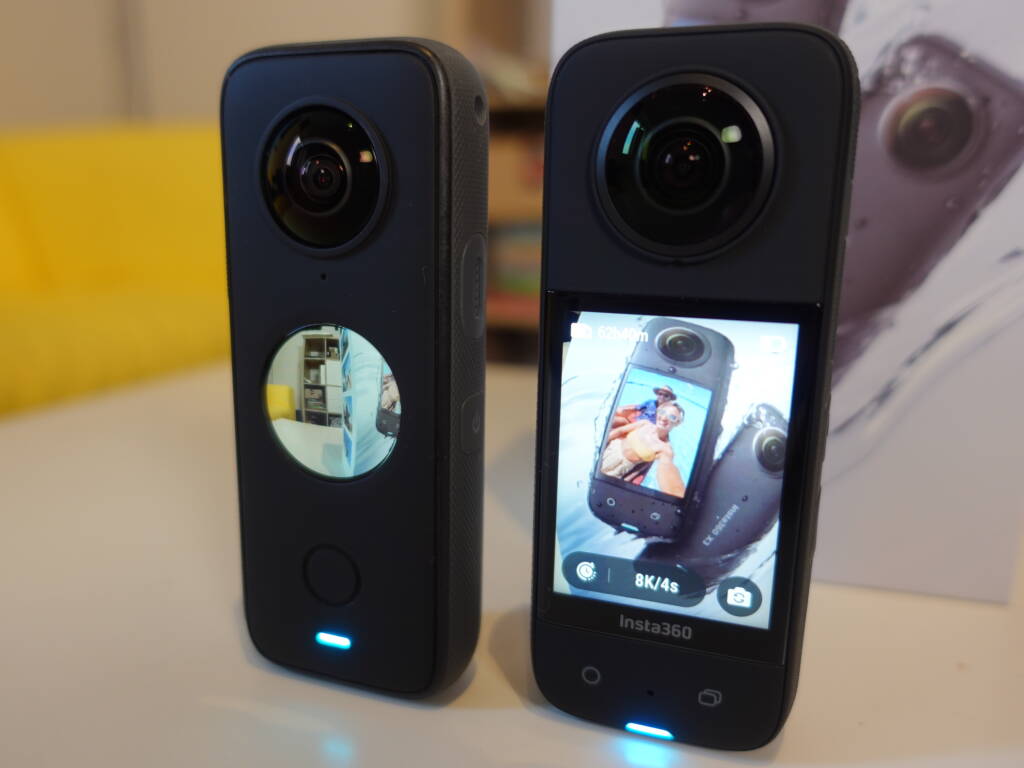 Thanks to new 1/2″ 48MP sensor we can record video with 4k 30fps single lens, a big step forward compared to the previous model where the resolution stopped at 1080p. Same upgrade for photos reaching 72Mp against the previous 18MP.
Insta360 X3 remains a compact camera even if the dimensions and above all the weight have undergone a slight adjustment, in fact it weighs 180g (against 149 of the previous model) and measures 114x4646x114mm (against 46x113x30 mm of the X2). It fits perfectly in your pocket and even the weight gain is largely justified by the new features.
In the lower part it has a 1/4 inch thread for attaching a tripod while on the side, protected by a flap, there is the USB-C port for charging and a slot for microSD cards which in this new model it is more solid. There generous 1.800mAh battery (against 1.630 mAh) is removable and recharges in 90 minutes. Everything is well sealed to ensure waterproofness and the IPX8 certification, it can in fact be immersed up to 10 meters without the need for a special case.
I immediately loved the new 2,29 ″ touch display which compared to the previous 1″ round is much brighter and more responsive in navigation. It lets you easily switch between views from both cameras and all menu options. Being able to see from the perspective of selfies makes this camera suitable for v-loggers because you can film yourself and your surroundings at the same time.
Also the software has been largely reorganized with more immediate access to functions also thanks to the greater speed and space available on the display. A praise to the developers who, as in the previous model, managed to organize all the many options / functions in a sensible way.
Software and features
The Insta360 X3 is practical and easy to hold in one hand, but its maximum makes using it a 1.2 meter selfie stick that is magically hidden in videos providing a third-person perspective or shots similar to a drone, thanks also to theincredible "FlowState" stabilization which makes any movement fluid even in the most extreme situations.
There are a myriad of modes to choose from and endless editing options, giving you incredible control, but also disorienting. Videos can be captured in 360 °, Steady Cam (for traditional flat videos), InstaPano and MultiView (picture-in-picture), while the extensive editing suite (available for Android, iOS and PC) provides as many tools, from time-lapse and hyperlapse, to still images and the "smart track" function that allows you to select someone's face so that the camera focuses and follows it for the duration of the video. It's really like having a TV crew in tow.
The 360 ​​video quality of the new X3 has been improved thanks to the new mode Active HDR, made possible by the new sensor from 1 / 2 ". Active HDR uses an algorithm to stabilize action footage, minimizing ghosting and revealing details other action cameras miss in both over- and under-exposed areas.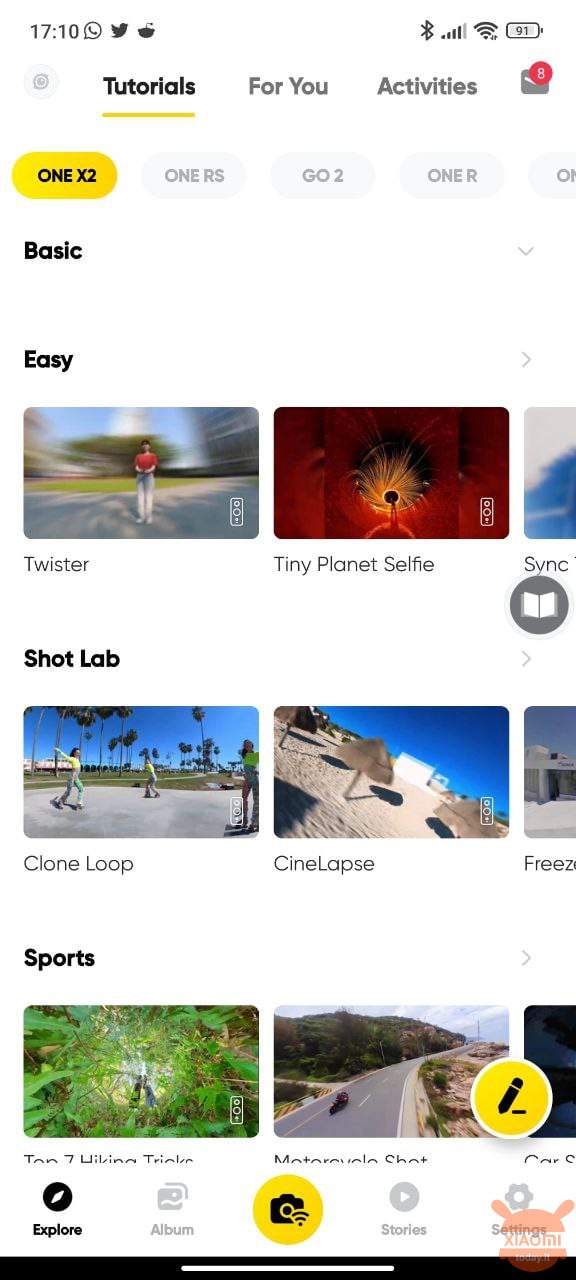 Among the novelties of the Insta360 X3 we find:
modality single lens with 4K video which objectively was a lack of the X2.
modality Me Mode which locks the frame on the main subject allowing us to shoot V-Logs in complete freedom without the need to elaborate them in post production
modality Active HDR, which greatly improves shooting in both overexposed and underexposed areas.
Bullet Time Footage at 4k 120fps
4k TimeLapse video
72MP photos, vastly improved
The options and tools available are so many to discourage and excite at the same time. It is therefore important to do some tests to understand which are the best shots that you can use later in post-production.
I also appreciated the ability to use the cam in the direct Facebook and YouTube, which is very rare but also useful for v-loggers and casual users.
Insta360 X3 also uses a four-way microphone ways to record ambisonic "surround" sound that adapts to 360º video with the alternative of activating wind reduction. It also supports a possible external microphone via adapter and even the ability to combine bluetooth headsets.
The Insta360 X3 can be controlled with voice commands, (unfortunately only in English or Chinese) to record and interrupt videos, take photos or insert a marker in real time to find an important scene.
Alternatively, the un is available bluetooth remote control which allows you to turn on and control your Insta360 but above all includes a GPS receiver which will add speed, altitude and map to your adventure videos.
Insta360 X3 vs ONE X2
Insta360 X3 Offer and Conclusions
The Insta360 One X3 is a powerful one action-cam with great versatility. It offers incredible quality in all conditions and in this model it has made up for the (few) shortcomings of the ONE X2 still a good product.
It is the typical product that does many things and does them very well.
The Insta360 X3 is available on the official website starting at €539. Using this link you will receive the invisible selfie stick worth €29,99 for free
Insta360 X3
The Insta360 One X3 is a powerful action camera with great versatility. It offers incredible quality in all conditions and in this model it has made up for the (few) shortcomings of the ONE X2 which is still a good product. It is the typical product that does many things and does them very well.
PROS
VIDEO 360 5.7K
4K VIDEO
HDR MODE
TIME LAPSE 4K
EXCELLENT COMPANION APP
Add your review