Every promise is a debt and Xiaomi has learned (after a long time) to keep what it does to its users. Not long ago, in spite of the usual year of waiting that we expected, the brand decided to reveal the long-awaited MIUI 12. On the same day of the presentation, the company also revealed which devices will receive the coveted updating to the new skin but above all revealed when. Contrary to what we expected, the announced times are right and precisely Xiaomi Mi 9T Pro is starting to receive the update in the Global Stable branch.
It had to be among the first devices to receive the MIUI 12 and in fact it is like this: the rollout for the new interface on Xiaomi Mi 9T Pro begins
Strange fact, on the same day the Chinese version that is called is also receiving the update Redmi K20 Pro. The two devices that we have learned to accept by their extroverted nature, and we refer to pop-up camera which at the time was an absolute novelty, are in fact receiving in these now the update to MIUI 12 in Global Stable version. This means that ALL those who have purchased a device and have not modified it by flashing different ROMs, will be able to enjoy all the news in the next few hours.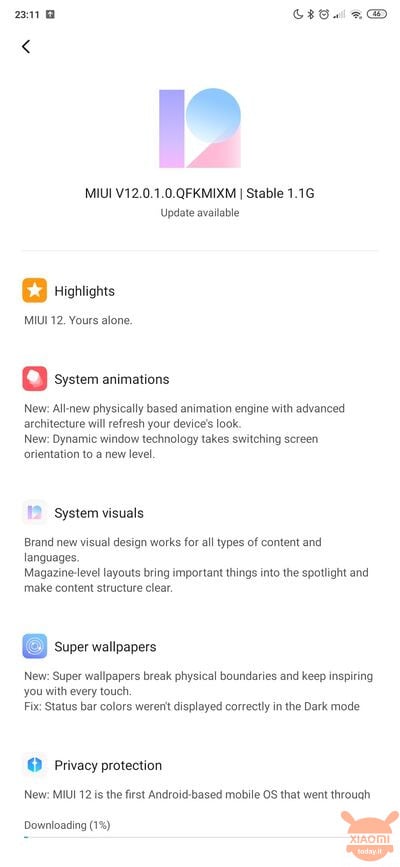 The new release is landing on all those devices with version MIUI 11.0.4.0.QFKMIXM

(MIUI 11) thus leading to the version MIUI 12.0.1.0.QFKMIXM. Therefore following the program I Pilot so all users with Mi 9, 9T and 9T Pro they could try a preview, only if subscribed, of all the news here also the devices Global they will be able to enjoy all the long awaited news. Among these, the most requested are those concerning animations, but there is no lack of improvements in photographic field thanks to various filters and much more.

Download MIUI 12 Global Stable | Xiaomi Mi 9T Pro (Redmi K20 Pro) | Recovery

To be fair, remember that the link above refers to recovery, so there is a need to flash the ROM. In this regard, the Xiaomitoday.it team is not responsible for any damage that you may incur by carrying out these modding steps without having the necessary knowledge.

Via | XDA
Are you interested in OFFERS? Follow our TELEGRAM Channel! Many discount codes, offers, some exclusive of the group, on phones, tablet gadgets and technology.