Are you interested in OFFERS? Be smart and subscribe to our Telegram channel! Lots of discount codes, offers, pricing errors on technology from Amazon and the best online stores.
Tried the new one Roborock S8 which has just been presented together with the Plus and Pro Ultra models. Like every year, Roborock brings innovations capable of raising the bar in the whole sector of automated cleaning.
Design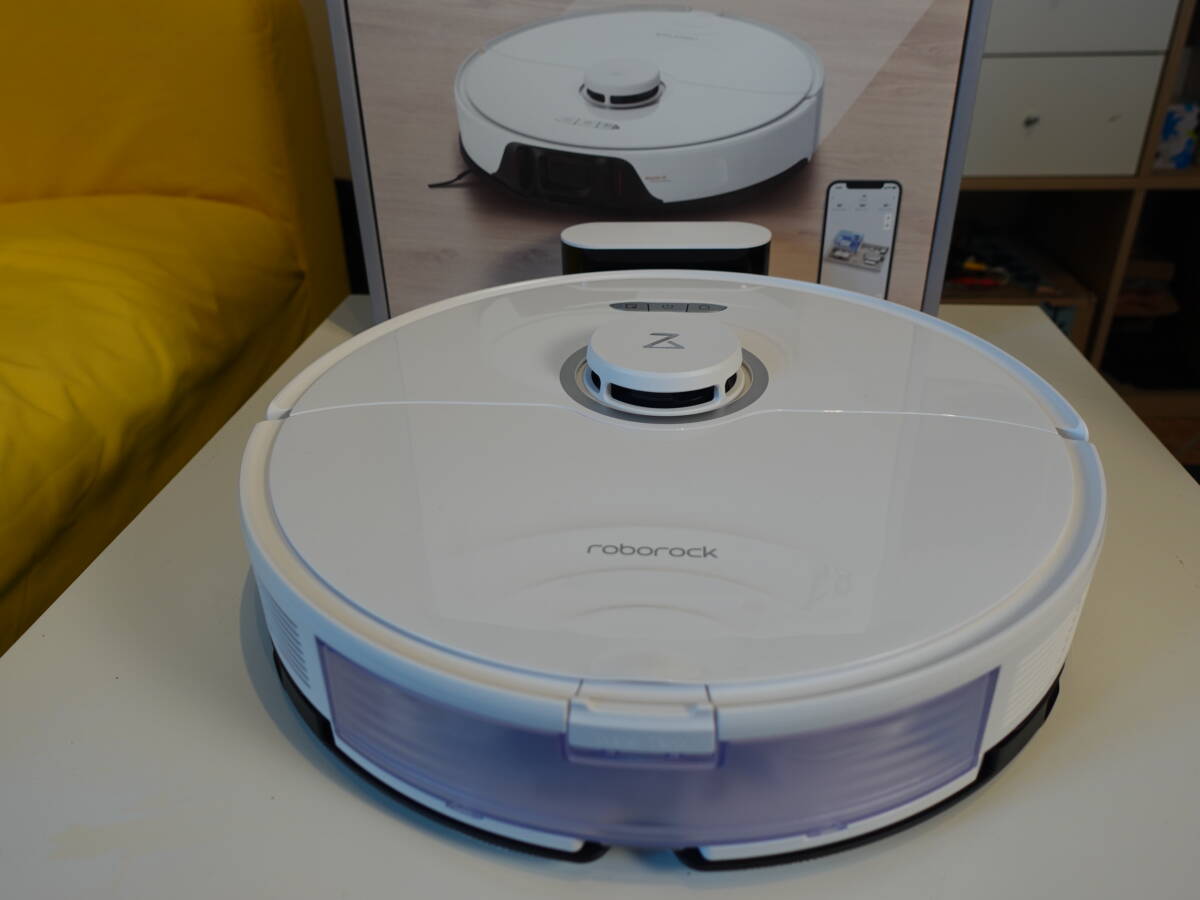 Roborock S8, available in both black and white, has a classic design with measures similar to the previous model, ie 350x353x96.5mm. At the top we find three control buttons for return to base, on and off, spot cleaning. Also from the top you can access the 350 ml dust collection compartment, large and sufficient for more than one cleaning session. The HEPA filter it is large and easy to maintain.
Al water tank from 200 ml instead, it is accessed from the side. It has a good capacity that can wash approximately 70/80 mXNUMX even with the maximum water delivery setting.
La charging base it is minimal 12,5×15 cm, it is equipped with rubber pads and a double-sided adhesive to fix it to the floor. Recharge the robot in about 6 hours and guarantee an autonomy of up to 180 minutes at minimum power thanks to the generous battery from 5.200 mAh.
How does Roborock S8 clean?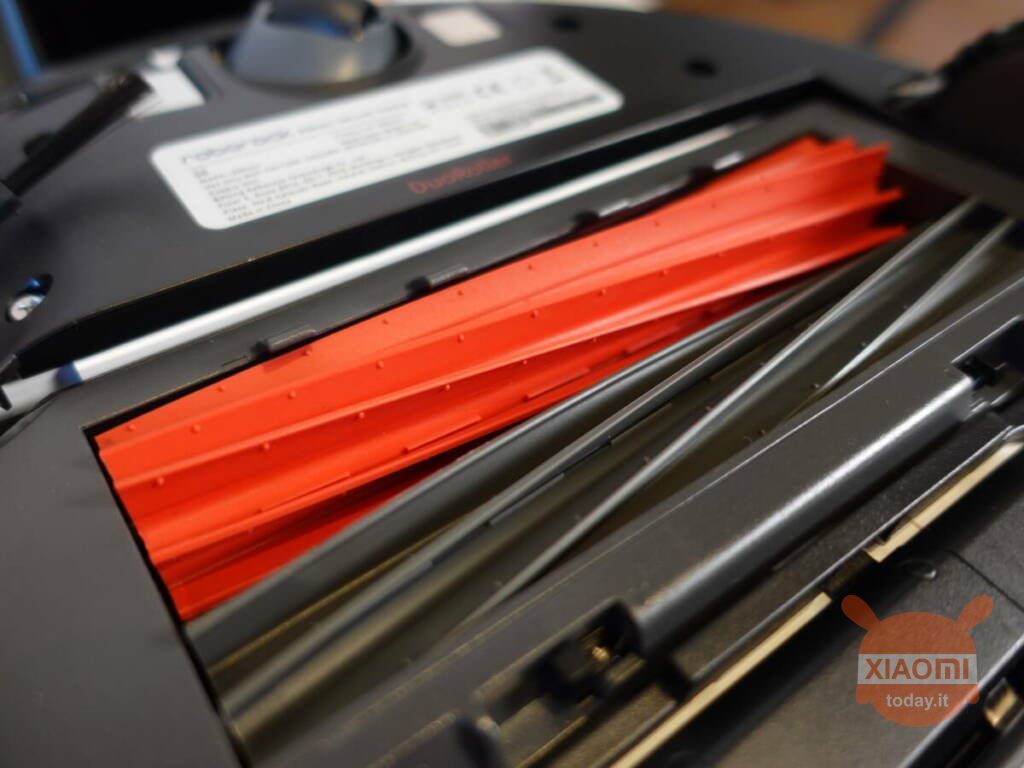 The first big news of this model is the adoption of a double silicone roller where each roller rotates in the opposite direction compared to the other. This system to the double advantage of lgreatly imitate the tangling of hair and hair, it also traps dirt, preventing it from being "shot" as happens with large residues.
If we add that to this the suction pressure was raised to 6000Pa, an insane value, it's no wonder it passed all my tests in a winning way like never before.
Ma on the carpets that the Roborock impressed me the most. In fact, carpets and rugs have always been the most complicated context for these robots which do not have a power comparable to "classic" vacuum cleaners and instead Roborock S8 does not disappoint, indeed it impresses!
Look at the Suction TEST which we performed.
There are specific functions to improve carpet cleaning:
La carpet mode automatically detects carpets and increases power to maximum
La deep carpet cleaning allows you to clean the carpets separately a second time after completing the cleaning of the room
We can also customize the behavior of the robot through 3 choices:
Avoid carpet will exclude carpets from cleaning
Car mat (fanciful translation) the robot will lift the cloth to avoid wetting the carpet
Carpet vibration use the vibrating cloth to "loose" the dirt between the fibers and improve cleaning
I also appreciated its silence, in fact the noise emitted at medium power is about 68.5dB.
How does Roborock S8 wash?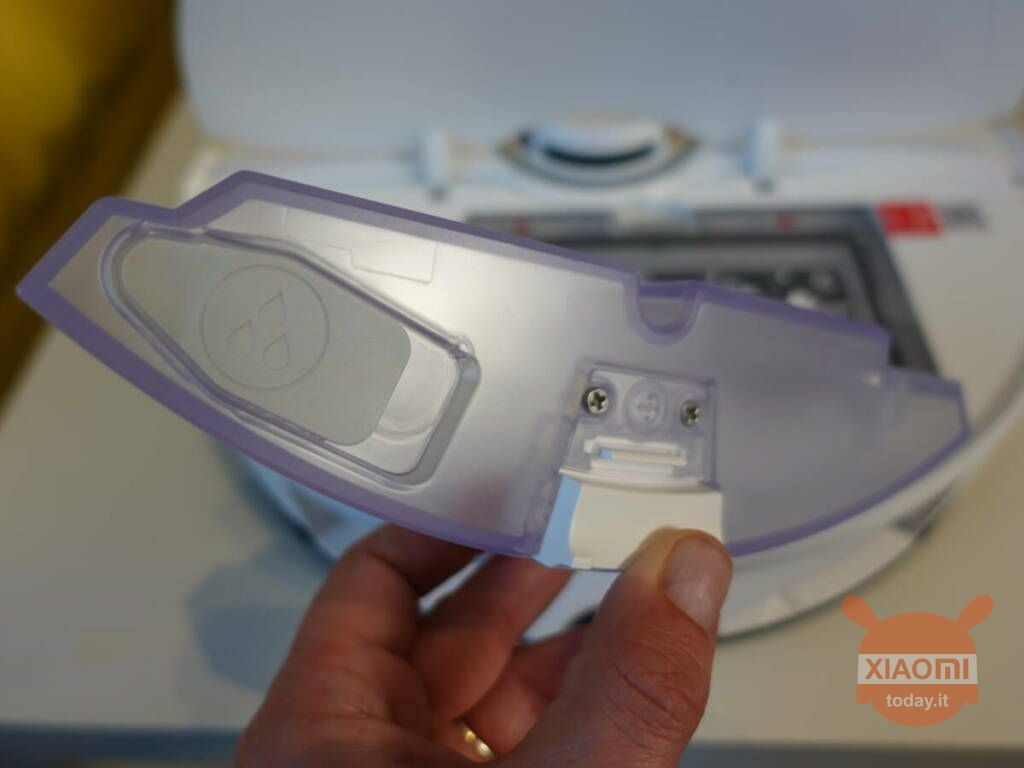 For washing floors, Roborock has long embraced the philosophy of the vibrating cloth instead of the gods spinning cloths, which has even been improved in this model.
The cloth, which vibrates up to 3000 times per minute, is dragged by the robot as it comes pushed down with a pressure of 6Nm creating a friction on the floor that can actively clean as you would a "mop".
Il The result I got in the tests is satisfactory. Daily dirt comes off easily while older stains require more than one pass and it's not always enough.
The result, once the floor has dried, it is perfect and without traces or halos. An option has also been introduced to force the robot to take long trajectories to avoid scratching wooden floors.
But absurdly this value also becomes a defect. It cleans so well that after a couple of rooms the cloth has collected a lot of dirt and continuing to wash becomes less and less efficient.
If you have a big house and animals like me, it is essential to have the Roborock S8 Pro Ultra version which incorporates the function of washing the cloth between rooms.
Navigation and obstacle recognition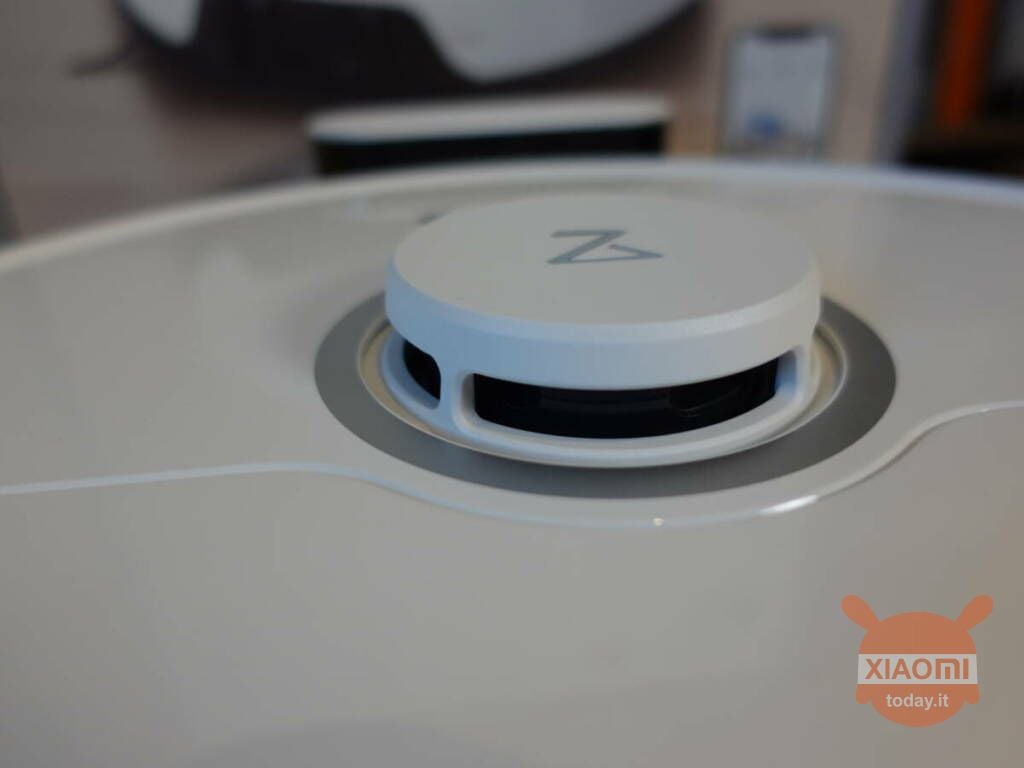 Also obstacle recognition has been improved. The 3D (reactive 3D) optical sensor is capable of recognizing up to 42 different objects including shoes, cables, excrement, chairs, socks, etc. avoiding unpleasant accidents or worse still damaging the robot.
The sensor is also equipped with a light beam (invisible to the naked eye) which guarantees excellent performance even in low light conditions.
In tests it proved to be really efficient going always to recognize and anticipate the obstacles he has encountered.
It has also been introduced a specific function for pets to warn the algorithm of possible dogs/cats in the house to pay particular attention to.
Application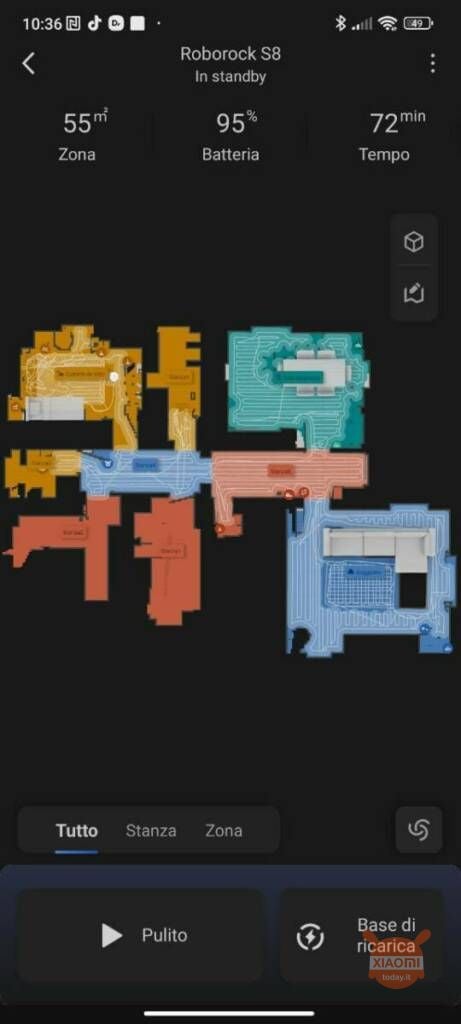 To take advantage of the many functions available, we have acompanion app really well made, perhaps the best together with that of the Dreame and which offers many well-organized options. The application is in Italian, albeit with some imaginative translations, as well as the voice available for the robot's vocal feedback.
There's even a 3D map that realistically represents the house complete with furniture, floors and obstacles (eg shoes) it encountered in cleaning.
The wifi signal strength map is also useful and nice, which can help us identify any problems.
Both for Apple that android we can use the application of the Roborock or Xiaomi Home.
Subdivision by rooms
Subdivision by floors
Selective cleaning of areas or rooms
Enabling disabling of areas where to clean or wash
Virtual walls
Scheduled cleaning
Selection of suction power
Selection of the amount of water to use
Do not disturb mode
Cleaning history
Software update
The robot is also compatible with Alexa which allows us to give it voice commands to start and stop cleaning.
Conclusions and price of the Roborock S8
Roborock S8, overall it is the best robot on the market. Suction, washing and navigation are at very high levels for a true top of the range.
It feels though the lack of a basis for washing of floors that would allow the excellent vibrating cloth to be fully exploited, but that this function must be oriented towards the PRO ULTRA version which costs twice as much.
I would also have liked some spare parts in the package, at least one filter and an additional cloth.
It is currently on offer on Amazon with a discount of €110, a price that is also TOP of the range and only partially justified by the excellence of the product but if you are in a hurry, buy it now, you will not regret it. We hope to see it come down in price as it truly is an "ultimate" robot that anyone would appreciate.
Prices on Amazon
€699,00
available
to June 3, 2023 17:55
Last updated on June 3, 2023 17:55
Roborock S8
Roborock S8, overall is the best robot on the market. Suction, washing and navigation are at very high levels as a true top of the range.
PROS
Fantastic suction
Efficient obstacle detection
Effective floor scrubbing
Great autonomy
CONS
High price
No spare parts in the package
Add your review
|
Read Reviews and Comments