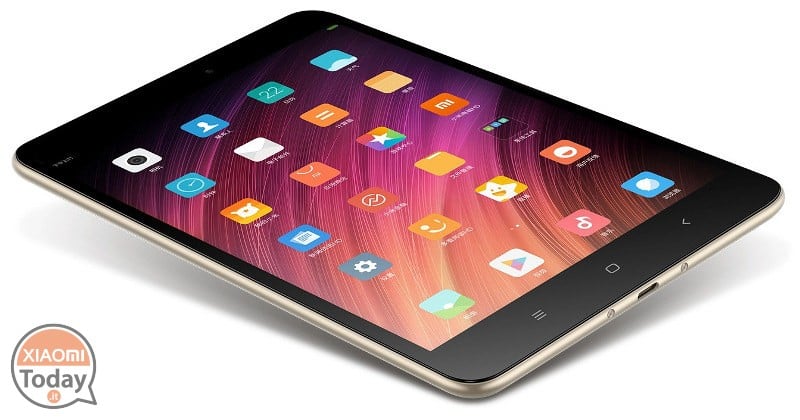 The tablet market offers a wider choice, with the arrival of "transformable" 2-in-1s that can be used as genuine "ultra-portable", so it's hard to understand what it can do at our case, especially if we have to choose between tablets with Android and within the price range between 130 and 250 €. In this band it is necessary to emphasize the output just a few days ago Xiaomi Mi Pad 3, of which we offer you a brief review of the version with Mediatek processor and memory from 4-64GB.
We start with the photos of the package, minimal but well-maintained, as is standard for Xiaomi products, inside which we find a C-type micro USB cable and a 5V-2A charger.
Technical Specifications:
Display: LCD by 7.9 "with 2048 × 1536 pixel resolution, 4 ratio: 3 that allows better reading and density 326ppi;
dimensions: 200,4 × 132,6 × 6,95mm;
weight: 328gr;
MediaTek MT8176 hexa-core processor clocked at 2.1GHz, 4GB RAM and 64GB storage for the price of 1.499yuan (about € 200,00);
integrated graphics processor PowerVR GX6250;
front 5Mp camera with f / 2.0 focal opening 13Mp with f / 2.2 focal opening and 1080p resolution video support;
6.600mAh battery with quick charging support from 2A;
4.1 bluetooth connectivity and bluetooth HID profile;
WiFi dual-band with standard 802.11a;
based on Android 8.2 based on MIUI 7.0 operating system.
From the photos we can note that the back of the Mi Pad 3 is identical to the Mi Pad 2: both models are made of a single-piece and completely metal body that has undergone a blasting process. On the inner side, however, it is worth noting the screen made of "full fit" technology, which means that the protective glass and the display layer are so close to each other. Due to the lack of a layer of air, the screen provides a perception of greater transparency.
The C-type micro USB port is located on the bottom of the tablet, while the audio jack is located at the top and navigation is enabled by 3 soft-keys under the screen.
What differentiates the Mi Pad 3 from the previous model is hardware. Xiaomi has made 4 big changes for its new tablet: the Intel Atom X5-Z8500 chip has been replaced by SoC Mediatek MT8176 and the RAM has been doubled, from 2 to 4GB. Internal storage has also increased as battery capacity is increased.
The MT8176 chip was released in October 2016 and was designed primarily for Android Tablets. This SoC has 2 core A72 clocked up to 2,1GHz and 4 core A53, and thanks to the PowerVR GX6250 GPU Imagination Technologies, the Mi Pad 3 supports 4K H.265 video decoding. Compared to other processors, the MT8176 is very close to Snapdragon 650 performance, although the latter has a weaker CPU but a slightly better GPU. Compared to the Mi Pad 2, the new version should give better performance.
The best performances are proven by benchmark results, in fact, in tests performed on Geekbench, the CPU gets very close to the Snapdragon 820-821 results, while the GPU has slightly lower results than the SoC SD650 and the Huawei Mediapad M950 Kirin 3.
Consider these features, the Xiaomi Mi Pad 3 is one of the best options if you are looking for a simple tablet at an affordable price.