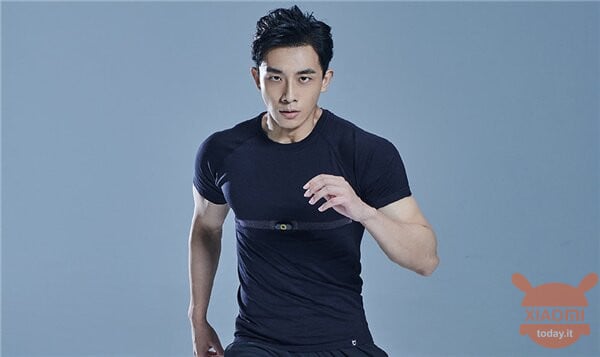 Nowadays more and more people try to take care of their health through mobile devices such as smartband, smartwatch and sometimes even headphones where technology allows it. In the first case we have, last of the last, the Mi Band 5 aka Amazfit Band 6; in the second case regarding Xiaomi still nothing since the Mi Watch in Europe version has not yet arrived; in the third case instead we have the Amazfit PowerBuds. But Xiaomi is at the forefront and his sub-brand Mijia has launched a super smart shirt dedicated to sportsmen: has a built-in ECG sensor to control the beating of the heart.
Xiaomi's new gimmick is a super smart t-shirt with an integrated ECG sensor to monitor heart beats during workouts
The product in question of Xiaomi, or rather of Mijia, has just been published on the official website Xiaomi Mall and will start with the crodwfunding on 5 August next one. It is a must-have accessory even if defining it like this seems a bit of an oxymoron. It is of primary necessity as it is a simple shirt, nothing more. To make it special, however, is a detail ECG sensor (electrocardiogram) placed inside a strip at the chest. The t-shirt is produced with a highly breathable fabric but the strip we just told you about is formed by a "fiber COTECH

"

able

capture non-inductively microcurrents from our body

(literally from the source).

What we see in the image on the left is theovetto similar to a Mi Band that we find in the center of the shirt. This is equipped with a light blue ring which lights up at the time of measurement. This sensor is also equipped with a vibrating motor which is activated when, based on the physical activity we are carrying out, i beats increase abnormally. So it acts as an alarm to avoid various injuries during training. The device is clearly connected to an application that can be used via our smartphone: as you can see in the image on the right, it is possible monitor the electrocardiogram and change the training mode at will. T-shirt and smartphones communicate via bluetooth. The biometric measurement sensor "Smart ADI ECG" he's able to perform an electrocardiogram in just 1 minute.

The cost of this Xiaomi shirt with integrated ECG is equal to 249 yuan, that is 30 € approx at the current exchange rate.

-67%
Coupon
🇨🇳 Priority Direct Mail FREE Shipping (7 / 15gg, No Customs) ✈
Shop
Use discount codes:
BGcor2CN
-65%
Sale
🇨🇳 Priority Line Collection (10 / 15gg, No Customs) ✈
Via | Mydrivers
Are you interested in OFFERS? Follow our TELEGRAM Channel! Many discount codes, offers, some exclusive of the group, on phones, tablet gadgets and technology.