Yeelight is one of the startups that is part of the Mijia ecosystem which in turn is subject to the Xiaomi company. The brand is already known for the various smart light bulbs and LED strips, proposals at competitive prices and that can create the right atmosphere for all situations. The luminous family has been joined by another product for a few days, namely the Moonlight chandelier which will be available for purchase at the price of 349 yuan, about 44 euro at the current exchange rate.
XIAOMI Mi 9T 128GB BLACK - BLUE Global 6 / 128gb
ATGRATIS Shipping from Italy 24 / 48h

The chandelier Xiaomi Yeelight Moonlight Chandelier (this is the full name of the product) comes with a minimalist design typical of the Northern European style, to understand what Ikea has long accustomed us to marrying perfectly with any type of environment in which it will be placed, from the most rustic to the ultra-modern, but will also be able to create a warm and romantic atmosphere.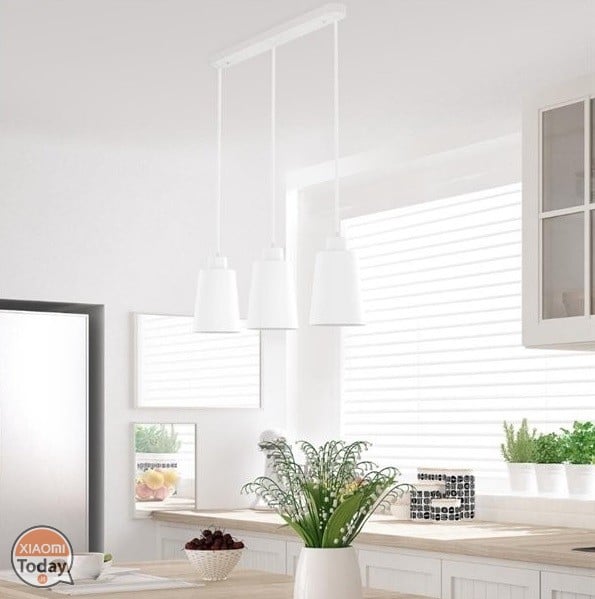 The cup that hides the lamp It is made entirely of metal, with a plate from thickness of 0,8 mm, resulting solid and against any deformation as a result of collisions. In addition the surface is completely coated with a spray paint that will guarantee one long-term durability against rust and moisture. The Moonlight chandelier uses a common bulb with E27 attack, but 3 LED bulbs with warm light (tending to yellow) are already supplied by the manufacturer. Moreover, on the upper part of the plate there are holes for heat dissipation in order to preserve possible excessive overheating.
The measures of the Xiaomi Yeelight Moonlight Chandelier are equal to 180 mm relative to the height of the cup, 670 mm relative to the width and 1200 mm about the height. Maximum energy support around light bulbs will be 3 x 15W if we mount LED bulbs or 3 x 40W if we install incandescent bulbs. At the moment there are no leaks about the real commercialization but it is conceivable that the product will definitely be snapped up.