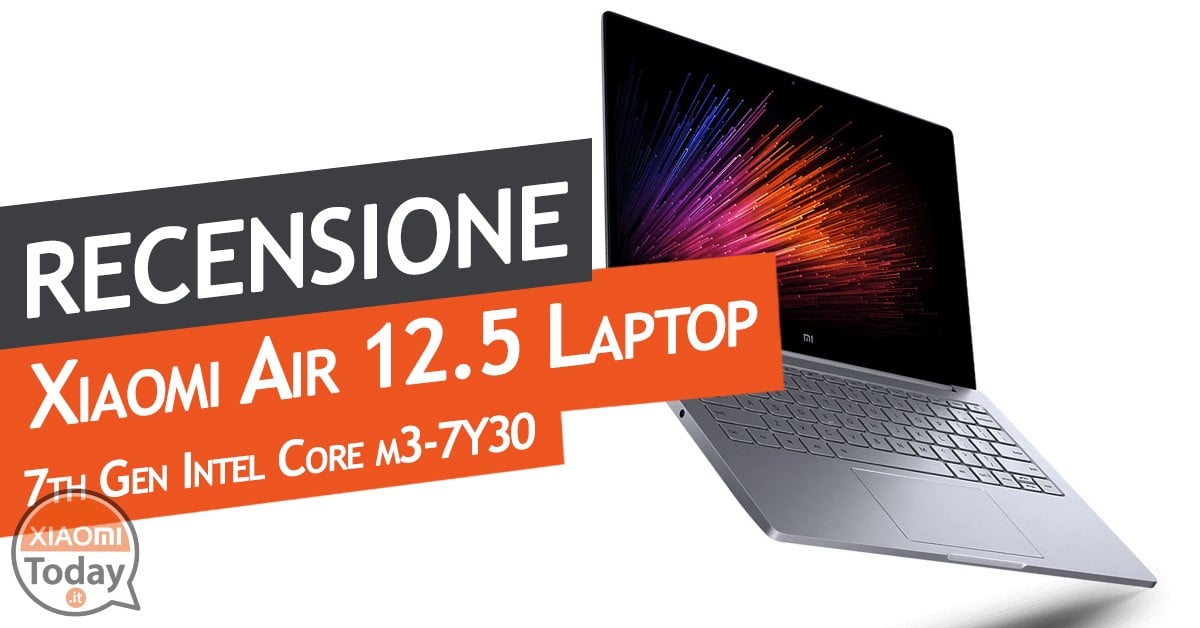 In a historical moment in which Xiaomi has been able to establish itself as a global brand not only in the smartphone sector but in the technological one in general, it is certainly interesting to evaluate the purchase of the Mi Notebook Air 12.5, the first of a successful series that has been able to be appreciated and now thanks to the many offers that you can find on the store Banggood.com, the deal is around the corner.
La package of sale of the Xiaomi Mi Notebook Air 12.5 as always, in full Xiaomi style: white, minimal and divided into several compartments, in which we find:
Xiaomi Mi Notebook Air;
USB Type-C charger from 45W with Asian plug;
user manual in Chinese with warranty certification.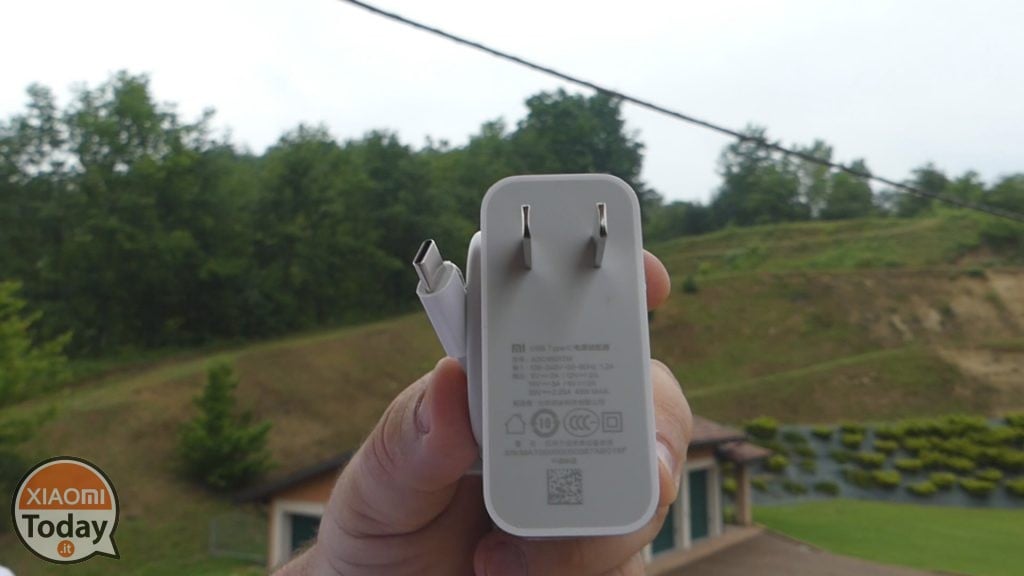 ---
Mi Notebook Air is a portable from 12,5 inches and a weight of 1070 grams with dimensions equal to 292 x 202 mm and one often only 12,9 mm, even if for almost the whole a highly resistant aluminum alloy is used. and it is precisely the portability of this notebook one of the strengthsIn fact, on balance the dimensions are comparable to an A4 sheet. Design is appreciated for in a sense by its anonymity, as it is absent any type of logo with the exception of the lower part where we find the symbol of the company MI and a large sticker showing some technical information as well as the logos of the brand partner in the creation of the notebook, such as AKG, Dolby Audio and Microsoft Windows. The color is a light gray that runs through all the elements of the body such as the keyboard and the mouse, while the metallic effect of the chassis is given by a sandblasting process that makes the whole overall look really elegant and refined.
Still remaining on the back we can also notice 5 anti-slip silicone rubber which also serve to preserve the chassis from any scratches or small bumps, 8 T5 Torx screws but they are pointed out two small stereo speakers and the absence of any ventilation holes because Our Mi Notebook Air is of the FanLess type, ie without fans for cooling.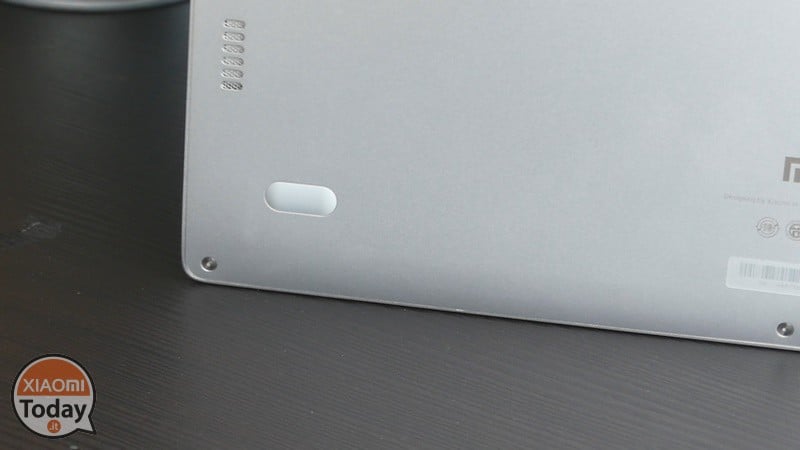 Minimal is also the provision of doors and entrances, in fact on the left profile we find thejack output from 3,5 mm, to insert earphones and / or headphones, and the HDMI 1.4 port through which go to connect an external monitor. On the right profile complete the equipment an 3.0 USB port, the USB Type-C input which has multiple functions, such as recharging the handset and connecting external devices also via an OTG adapter. Finally we find a small LED that will tell us the state of charge of the battery when connected to the electric current.
By lifting the lid of the Mi Notebook Air we realize the real quality of this product, because just one finger to open the screen that tilts up to 135 °, never bend. Below it we find one keyboard with 1.2 mm travel and backlit. Sure the layout is not Italian but American, even if there are solutions that solve the problem through adhesives. Anyway the user experience is not bad and the feedback is definitely promising. Finally, there are small function keys that allow us to access some shortcuts, such as volume control or screen brightness. The only signal should be made in relation to the backlight, there is no way to keep it active and after about 15 seconds of inactivity stops and to activate it again it will not be enough to move the mouse but we should necessarily push a button: fortunately the last set of keys should not compromise the work.
The good writing experience described above also derives from the presence of one wide palm rest frame, which allows the hands to stay in a natural position. At the same time it hosts a trackpad with glass surface also with a large surface which makes it possible to distinguish between right and left clicks, supports the Windows 10 gesture being precise and never "rubbery", even if I personally prefer the use of external solutions. Compared to other solutions offered by Xiaomi we do not find the presence of a fingerprint sensor but you can still unlock the notebook quickly using the 2 / 3 Mi Band by downloading the app Smart Unlock.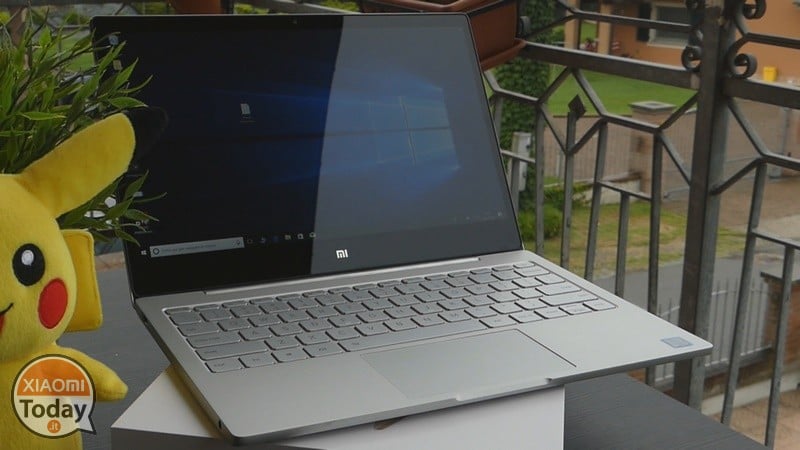 Before we mentioned the display, a 12,5 inch panel of IPS type and Full HD resolution 1920 1080 pixels x in 16: 9 format and set in a frame often only 5,7 mm. At the bottom we find the only MI logo on the whole construction of the notebook and we can see the big zipper, made of plastic, which allows an inclination up to 135 °. Appreciable brightness (300 nits) in all situations, with the exception of direct sunlight, but on the other hand which notebook is successful?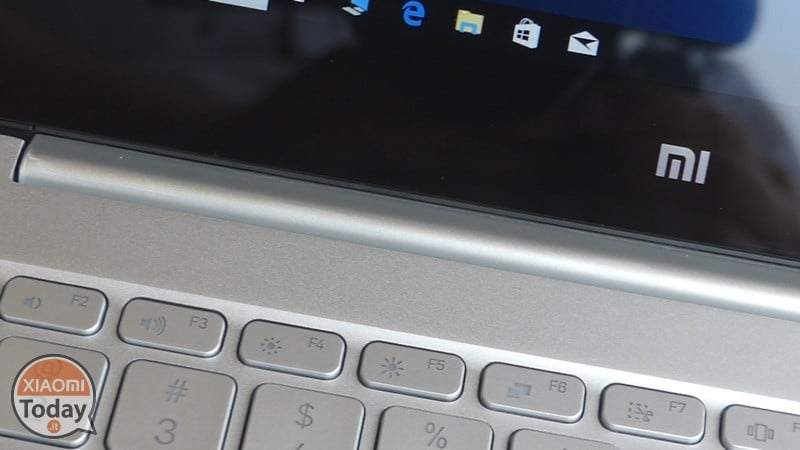 Accomplice is also the reflective nature of the cover glass installed with 7H Mohs hardness that protects against small scratches that could be generated over time. However, on the Mi Notebook Air we find a screen covering about 78.6% of the available surface. But removed these acronyms and numbers what interests is the yield, which on the notebook of Xiaomi is really good: color calibration true to 100% (600 contrast: 1), without showing excess saturation or the opposite, even at strong angles (170 ° max).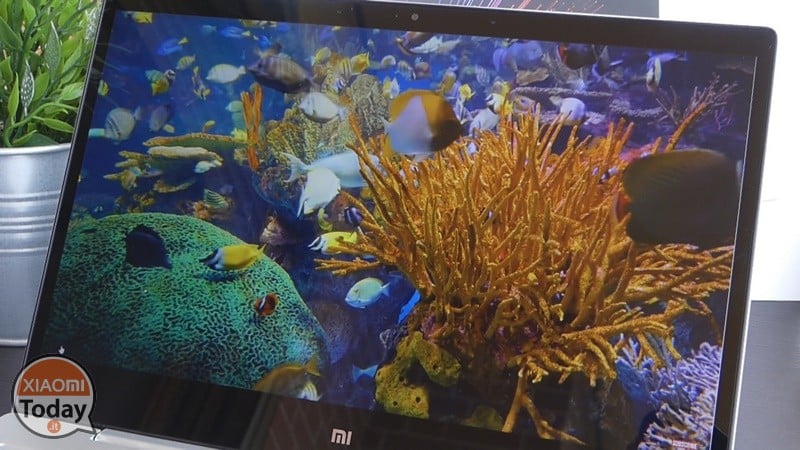 But let's get to the point of the question, that is, to the services which are guaranteed by a Intel Core dual-core processor M3-7Y30, basic solution with 7th generation Kaby Lake architecture and production process at 14 nm. We can have thanks to the HyperTrading technology four logical threads, accompanied by 4 MB of cache and a TDP of 4.5 Watt. The working frequency varies from 0.8 GHz to a maximum of 2.6 GHz on a single core or from 2.0 GHz on both cores in Turbo Boost mode. The on-board RAM is from 4 GB type LPDDR3 in Dual Channel to 1866 MHz, Unfortunately not expandable as it is soldered, and it is a shame given the support up to 16 GB.
Moving on to the graphic sector, we find only the Integrated GPU in the Intel processor, or the Intel HD Graphics 615, with support for 12 DirectX, OpenGL and H265 / HVEC codecs. Type hard disk SSD M2 Sata 3 from 256 GB, accompanied by a completely free PCI-e slot, which proves to be a good compromise in terms of speed and performance. Present also the 802.11 Wi-Fi a / b / g / n / ac Dual Band guaranteed by Intel 8265 Wireless Card and 4.1 Bluetooth. Finally, there is no lack of one good stereo sound offered by speakers made by AKG co power from 1W each and Realtek ALC233 card, with appropriate optimization Dolby Audio ™ Premium which also allows us to combine headphones and earphones with fidelity up to 24 KHz and sounds up to 48 KHz. Beyond that it is presents one webcam with HD resolution from 1 megapixel placed above the display and accompanied by a double microphone and a small one Status LED in white color.
All this translates into a daily and real use that we usually make of a laptop, where the Mi Notebook Air proves to be fast and snappy, ready to use in just 9 seconds from pressing the power button. Certainly not born as a solution suitable for gaming, but we can push ourselves to make video editing without any particular problems while inserting effects and filters, at least in the 1080p resolution but also the photo retouching without increasing performance.
And this good balance of performance is found as a gain in terms of autonomy. In fact the battery by 37 Wh on average he manages to give away duration up to 6 continuous hours with medium intense use, but if, for example, we try to reproduce only multimedia content in streaming we can also get 8 hours of continuous autonomy. But if all this was not enough, well the 40 watt power supply will allow you to reach the 50% charge in just 30 minutes while it will take about 1 half hour to complete the charge. But one aspect that we have not analyzed yet is related to the software that in the case of the XIaomi Mi Notebook Air from 12.5 inch will come in the form of Windows 10 Home Single Language in Chinese so you will have to follow this guide reference to transform it into Italian. You will also need to install all the drivers (find everything in the guide), ma within about 1 you will now have a fully functional machine, but if you hate Windows you always have it possibility to install over Linux distro, perfectly compatible and that in most cases even the hardware will be detected without problems. Recommend the Ubuntu and Mint distro.
Conclusions
Xiaomi Mi Notebook Air 12.5 on balance shows up a real deal not to be missed. A machine designed for every type of user, especially for all those who live their everyday life on the move. You could go to work or university by train, and maybe you need to finish a job, but also in other situations the Xiaomi notebook turns out to be an excellent ally without sacrificing constructive quality and overall performance. I really recommend it to everyone, as it is convenient, fast, well built and also the Linux support and the additional PCI-e SSD slot are not to be underestimated, with a view to upgrading the machine. The only compromise you have to submit to is the layout of the international keyboard and the fact that you initially have to lose about an hour to translate it, but given the price at which it is proposed on the store Banggod.com, almost half compared to laptops of the same characteristics, I would say that we can turn a blind eye.
XIAOMI MI NOTEBOOK AIR 12.5
The Xiaomi Mi Notebook Air 12.5 represents the first series of notebooks produced by the company that even in this field does not contradict itself, proposing a suitable product for most of the needs of each user. Particularly suitable for those looking for a car to always carry around, given the size and weight. Definitely good overall performance that can satisfy 360 °.
PROS
CONSTRUCTION AND MATERIALS
PORTABILITY (dimensions and weight)
DISPLAY
BATTERY DURATION
QUICK RELEASE
SLOT M.2 SATA FREE
LINUX SUPPORT
AUDIO
CONS
AMERICAN KEYBOARD LAYOUT
WINDOWS 10 HOME SINGLE LANGUAGE CHINESE
LACK OF INPUTS / DOORS AS EXAMPLE MICRO SD CARD
REFLECTIVE DISPLAY SURFACE
Add your review
|
Read Reviews and Comments